Birthday Party Ideas Steilacoom * Indoor Kid's Party *Birthday Party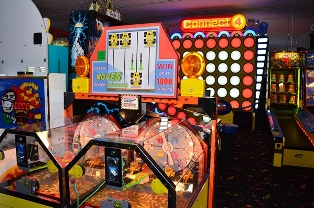 If you live in Steilacoom and need birthday party ideas or wonder where you can have fun and safe parties for kids, check out how Odyssey-1 can make any kid's party a favorite!
We would love our Steilacoom neighbors to stop by for birthday party ideas, see our Game Center, Laser Tag Arena or Jungle Gym Soft Play Park.
We have several birthday party ideas and packages to make your next Steilacoom kid's party or birthday party fun and exciting.
Birthday party ideas for a Steilacoom kid's party can be a full service package, where you leave all the details to us.
All parties for kids can include our Jungle Gym Park or the Laser Tag Arena, plus extras birthday party ideas like:
Set up and clean up
Birthday party room
Drinks and pizza
Paper products and utensils
Game Center tokens
Birthday party Birthday Machine
Kid's party attendant
Another kid's party or birthday party idea is to come during the week and Build Your Own birthday party when you can bring your own birthday cake! Steilacoom customers can choose to purchase food and birthday party activities ala carte.
To make sure we have necessary space and food for your Steilacoom kid's party, advance reservations are required for any Build Your Own Party or complete birthday party or kid's party package.
Birthday Party Ideas Steilacoom * Indoor Kid's Party *Birthday Party
With so many choices of kid's party or birthday party ideas, Steilacoom customers will have an easy time choosing us for all of their parties for kids! We have a clean and safe environment where your Steilacoom kid's party guests can have fun, adventure and exercise in each of our activity areas:
Soft play Jungle Gym Park – children under 10 can jump, slide, climb and explore
Little tike's area for 4 and under – designed for younger children
Laser Tag Arena – great for team building excitement
Game Center – fun and challenging video games for the kid's party guests
Redemption Center – get neat toys and gadgets when tickets are redeemed
More birthday party ideas – jeweled crowns and balloons!
Birthday party ideas include Steilacoom adults too! Having parties for kids – birthday party or special kid's party – can be tiring. So we provide lots of tables and seating while you wait for your children.
You can get a Cappuccino or snack from our concession stand, enjoy our free Wi-Fi, and relax knowing that your Steilacoom birthday party or kid's party was a great success! For birthday party ideas and parties for kids, call (253) 444-6561