Laser Tag Seattle * Indoor Laser Tag Seattle * Laser Tag Games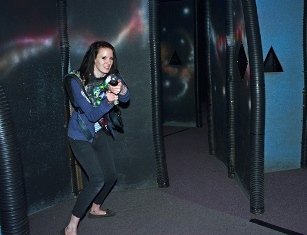 Remember the good ole' days of hide and seek? Why not kick it up a notch in Seattle and head south to Odyssey-1 for a round of laser tag! It's the same game but with more excitement and adventure every Seattle youngster will enjoy.
In fact, don't let the kids have all the fun! Laser tag could be a fun experience for all ages. So if you're 7 years old to 70 years old, make you way to Odyssey-1 in Seattle for a great round of laser tag.
Seattle residents know that kids of any age need to have daily exercise and their share of fun. Kids and excess energy seem to go hand and hand.
Our laser tag arena is open 7 days a week (except for a few holidays). Laser tag arena provides a safe and fun environment for your children to run, play and interact with other children. A game of laser tag can be an exciting and physical adventure that will use up that excess energy in a fun way.
Why is laser tag a great choice for Seattle kids?
Laser tag is especially fun with a group of kids!
A great way to build team spirit
Learn how to be part of a team
A fun and exciting adventure for kids or adults
Provides healthy exercise for Seattle kids
Seattle Laser Tag Games * Seattle Laser Tag for Families * Laser Tag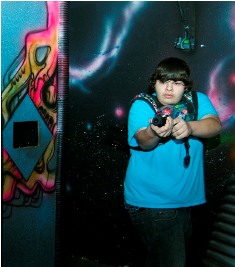 Seattle Indoor Play Area – Laser Tag and More
Living in the Seattle area means having many months when it is too wet for the kids to play outside. When you are tired of them bouncing off the walls, bring them to Odyssey-1!
We have fun and safe indoor play areas, including our laser tag arena. With lots of things to bounce on, climb, jump, and swing or explore, your child will be in for an exciting and fun adventure. We offer our Seattle guests:
Laser Tag Arena – ages 7-70
Jungle Gym soft play area – ages 10 and under
Jungle Gym little tikes area – ages 4 and under
Game Center – full of family friendly video games
Redemption Center – redeem your game tickets
Concession Stand – grab a snack!
Laser Tag Birthday Party – Laser Tag Arena – Seattle Kid Party Ideas
We also offer our Seattle neighbors full service birthday party and other event packages with our laser tag arena, with 2 games of laser tag for each party guest. Plus all of the party essentials like pizza and soft drinks and a trip to our famous Birthday Party Machine for the birthday child!
Check out our laser party packages and party extras when you are planning that next birthday or kid party. Call for more information. 253-444-6561