Laser Tag for Olympia Families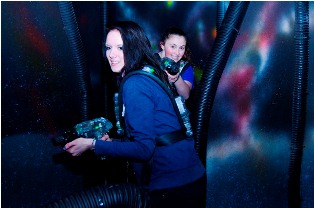 You and your family are planning a family outing, but cannot find a place which everyone will like? Come to Odyssey1 and you can spend a complete day in the most exciting and fun way. Indoor laser tag games one of the most popular games here, enjoyed by Olympia, WA families, as it is:
Fun and exciting
Safe for all
Easy to play
Indoor laser tag games are best enjoyed when you are among a group and what better time to experience this thrill than a special occasion like birthday.
Not only for families and groups, but this activity is also great when played at our indoor laser tag facility among Olympia area employees. You can get your employees together for an outing of different kind and bring them to our indoor laser tag arena where unlimited excitement and enjoyment awaits you.
Laser Tag Games for Individual, Group or Olympia Parties
Laser tag games in Olympia, WA can be played by all, irrespective of your age or skill level. All you have to do is shoot your opponent using a gun which emits laser beam. You can play as teams, and the team which is capable of killing maximum members of the team is declared the winner.
Whether you want to celebrate your birthday or other occasion in a unique and exciting way or just looking forward to spend some fun moments with your family and friends, our indoor laser tag arena makes the best place.
As soon as you enter the laser tag games arena, you start to feel as you have been transported to a completely different world, with just the weapons you need to shoot your enemy. Surrounded by darkness and multicoloured lights, you are only guided by your eye gear.
Indoor Laser Tag Arena for Fun, Exciting and Fast-Paced Play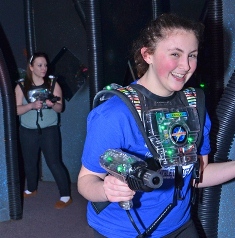 You can expect to spend the most unforgettable time at Odyssey1, as our indoor laser tag arena has been designed specifically to take the excitement quotient to a whole new level.
This game is not only exciting but safe as well and this is the reason why Olympia people of all ages enjoying it so much. Even parents are worry free as they know that their kids are safe while playing indoor laser tag games.
Give us a call at 253-444-6561 to know more about this exciting game and other wonderful offers.