Laser Tag Games for Groups, Individuals or Spanaway Kids' Parties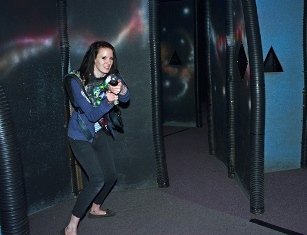 Odyssey 1 welcomes our Spanaway guests to our indoor Laser Tag Arena
If you are wondering where you and your kids can enjoy laser tag games, you have come to the right place. We are located in Tacoma and well worth the short drive from Spanaway. Our indoor laser tag arena is open every day of the week, except for a few holidays.
Laser tag games are an exciting and fast-paced adventure for young and old alike. The laser tag arena is open to kids 7 to 70 so bring Grandpa and Grandma too!
While your children are having fun playing laser tag, Spanaway adults are welcome to sit back and relax. We offer lots of available seating and you are welcome to grab a snack at our Concession Stand and use the free Wi-Fi while you wait.
Indoor Laser Tag Arena * Exciting Game of Laser Tag for Spanaway Families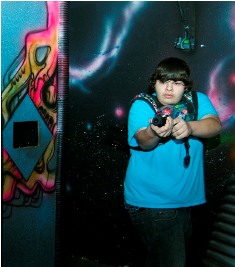 There's nothing more exciting for Spanaway families than an awesome game of laser tag. It only takes two for the fun to begin. We offer individual laser tag games or our indoor laser tag arena will also accommodate small or large groups as well.
Spanaway residents can also choose our indoor laser tag arena for special events, kid parties and birthday party celebrations. All of your Spanaway party guests will get 2 games of laser tag in addition to cool extras including:
2 hours of party room seating
Game Center tokens
A dedicated party attendant
Drinks and pizza for everyone
And…we provide the set up and clean up!
Laser Tag and Beyond – More Fun for Spanaway Kids
The indoor laser tag arena is just one way that Spanaway kids will have fun at Odyssey1. During your visit, make time for the kids to enjoy the other areas we offer too. We take pride in providing our Spanaway families a safe and friendly atmosphere where FUN is a top priority.
Spanaway kids are sure to enjoy:
The Jungle Gym Soft Play area for kids 10 and under
Our Soft Play area designed for the little ones 4 and younger
Family-friendly video games in our Game Center
A lunch, dinner or snack from our Concession Stand
Let the kids play an exciting game of laser tag – jump, bounce, slide and climb in the Jungle Gym – or visit the Game Center for video game fun. Odyssey 1 will keep your Spanaway kids entertained for as long as their energy lasts! If you would like more information, give us a call at 253-444-6561.