Odyssey 1 is "THEE" party place for your next party!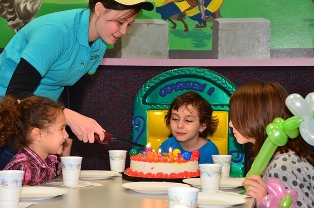 Are you looking for something new and exciting for the next party you have to plan for a group of children?
Odyssey 1 offers the following for parties:
The Jungle Gym is a soft play area for the littlest of guests
Our Laser Tag Arena offers exciting fun for guests of all ages
The Game Center offers video games and other fun games for all in attendance
Our Concession Stands allows those that get hungry the opportunity to eat and then continuing playing
Our Redemption Center lets children redeem tokens earned during play
Special group rates (see below for more information)
Odyssey 1 is not just for birthday parties!
We love to have groups visit us for large family gatherings (all the cousins can play and the adults have time to visit, too) as well as office parties where the focus is on what the children can do to have FUN!
Party planning details
All parties require an advanced reservation with base payment paid in full




A $75.00 cancelation fee will be charged for parties canceling less than 7 days in advance

.

Payments are accepted in the form of Visa, MasterCard, American Express, or Discover

 

No checks are accepted 

Special pricing for groups during the weekdays or more than 12 children

Group rates are only available for those groups with advanced reservation

Reservations line 253-566-3231
To schedule your party today, please contact us here at Odyssey 1.